I used to love that old song.  I always thought it was written by the Carpenters, but like so many of my youthful assumptions, I would be proven wrong.  Apparently it was first performed by the Marvelettes and shortly thereafter by the young Beatles.  (I must not have been the only one who got caught up in the catchy hooks.)  To my childish ears, it was like candy – a wee fluff of cotton candy on a warm summer day.  I didn't try to delve too deeply into the angst-filled words of the singer, who was hoping for 'just a card, or just a letter… saying that he's coming home to me!'
I am thinking about mail more and more lately though, and not because it's summer or I'm craving cotton candy.  No, I am not awaiting some long-lost suitor either.  It's the weighty issue of locating the *perfect* mailbox for our newly constructed front yard/fence/driveway combo.  When we moved in over a year ago, we were well aware that the little tiny old-fashioned mailbox someone had installed was not only silly and unsuitably styled for the house, it was woafully small and inadequate for the vast quantities of junk mail we seem to generate.  (disclaimer: the majority of catalogs we now get are the result of forwarding my mother-in-law's mail to our house.  She was a huge fan of catague shopping.)  So now that we installed a cool courtyard enclosure, the idea is to save the mail person a few steps and put in a new, improved model of mailbox.  One that not only fits the modern style we are trying to go for, but has some vast tracts of land associated with it… enough at least to support the amount of future recycling we'll be receiving. 
Contenders included these lovelies:
Let's face it, a mailbox is like the 'earrings' of a house.  It's the little sparkly thing we get to choose that actually says something about our tastes that is semi-affordable and do-able, unlike a new swimming pool or fountain with Bellagio-style timing.  Although… that would be pretty cool.
This one is a work of art by a gal on Etsy… she uses real teak and lovingly joins wood to wood to create a smooth pull-out box that is a joy to behold.  Too bad ours is going to be under full sun and rain.  This one needs protection from elements.
We liked this next one for the simplicity…but ultimately it lacked the 'it factor' that the last one did, which we are planning on ordering from the manufacturer in Austin, TX!
And the winner is….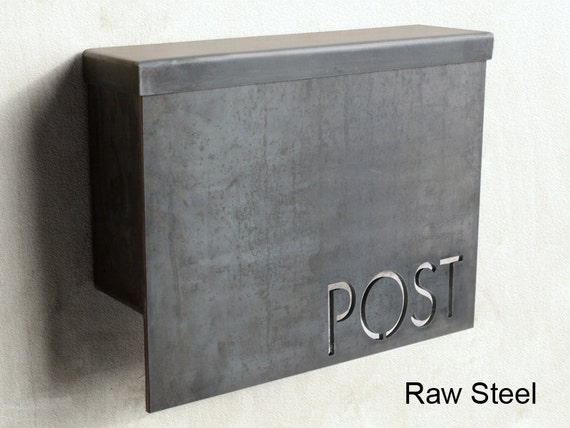 So the Gibson Mailbox by AustinDecor/ Steelworks is customizable, with space for our address letters where the word "POST" is on the first photo.
What do you think?  It's heavy and strong and should hold up to the elements pretty well.  Very modern but also has a slightly crunchy artisan feel to it.  Large enough, but not out of control.  Not least of all, we won't be feeling as bad for the poor post-person, forever trying to wedge our mail into that tiny old box outside the door!